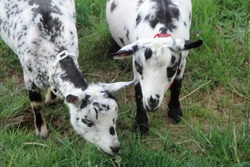 Welcome to our farm blog! It is exciting to be finally up and running. We are looking forward to spring and all the lovely sun. The weather has been just gorgeous here, 70's and plenty of sun. We are getting the goats ready with complete clippings. They are loving being free of all that fur. Of course I'm making sure to rub them down with suntan lotion. Learned my lesson last year with some very pink goats!
We'll be taking part in linear appraisal this June and hopefully we can try some of the girls on milk test as well. We've been milking once a day at this time. With our new baby, Cole, time has been tight around here.
The veggie garden is planted. Photos to follow. Also, I'm working on our raspberry/blackberry/tayberry beds. Keep checking back and leave us some comments. I hope you enjoy our blog as much as we do making it. Take care and enjoy!