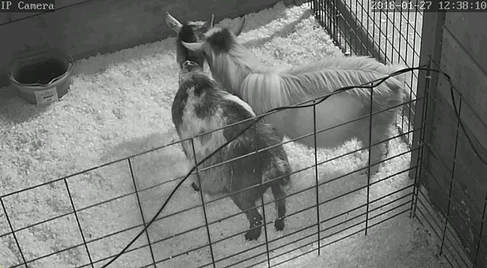 Technology is a wonderful thing! It is especially wonderful when it comes to making life easier for me in the barn. Dutchess, my never-ending obsession, actually went into heat! This has never happened for her naturally since she's lived here. I think I might actually have our feed and minerals in the perfect ratio. This has been especially apparent by our increased amount of copper boluses that I have been giving.
Copper is extremely important to goats. One of the many health benefits to goats is increased fertility. Dutchess is a prime example of this relationship. We have struggled for years on our farm with copper deficiency. Even with excellent loose goat mineral offered free choice, we remained with rust-colored coats and balding tails. We started copper bolusing once and then twice a year. We now bolus our goats every three months and this seems to have resolved the issue. The reason why we have a problem with copper deficiency, higher than normal levels of sulfur in our well water. Sulfur acts as an antagonist to copper. Overall, sulfur impedes the adequate uptake of copper. Therefore, we have needed to give more copper to counteract this interaction. I always stress the importance of having your water tested by a reputable water lab. It is also good to have it tested in different seasons since mineral levels can change with weather variations.
So now we wait, 21 days to see if Miss Dutchess settles. We are hoping for an easy kidding for her and all our does. Here's to keeping our fingers crossed!