Reference Goats
---
(Does)


CH Poppy Patch FM Dutchess

Sire: AGS Ponders End The Full Monty x Dam: CH Poppy Patch RC Poppy Seed

SS: Twin Creeks BH Bravado DS: AGS Twin Creeks Rebel W/O A Cause ++*B
SD: Twin Creeks Tres Colores DD: AGS Esperanza ZZ Charity

DOB: 05/02/2008 Kidding History: 2009 - 1 doe
2010 - 2 bucks
2011 - 4 bucks, 2 does
2012 - 1 buck, 1 doe
2013 - 1 buck, 1 doe
2014 - 1 buck, 1 doe
2016 - 1 buck, 1 doe
2018 -


Dutchess is an exceptional doe. We are so excited to have her in our herd. Dutchess was a top milker with a one time average of 3.5-4 quarts a day! She is a heavy producer that gave birth to sextuplets in 2011. Her udder is just fabulous! We plan to retain the majority of her offspring due to her age. She is sweet and has a kind personality. We are so thrilled that Poppy Patch Farm was kind enough to allow her to venture our way.

---
Above photos courtesy of Poppy Patch Farm

---
(Bucks)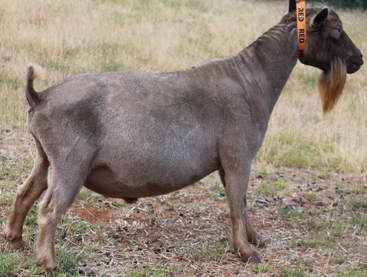 Diji Farm Pal's Pre-Nup *B
A.K.A. "Red"


Sire: SGCH Buttin' Heads Palimony ++*B x Dam: Diji Farm CR Salina 1*M

SS: Buttin' Heads Pajamars ++B DS: Camanna CS Ravello
SD: GCH Buttin' Heads Wedding Song 1*M DD: Grandado Acres Mustang Molly

DOB: 10/14/2012 Linear Appraisal: VEV88 (5 yrs)


---