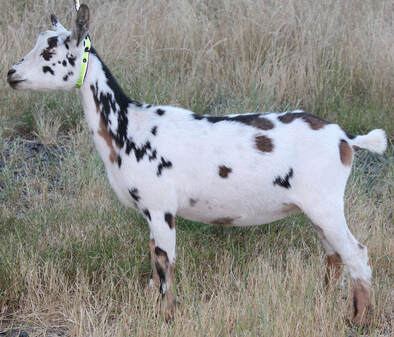 Franke Farm ID Empress

Sire: Bellafire BP I Do *B x Dam: CH Poppy Patch FM Dutchess

SS: Alethia JD Bachelor Party *B DS: AGS Ponders End The Full Monty
SD: Poppy Patch PB Peggy Sue 1*M DD: CH Poppy Patch RC Poppy Seed

DOB: 12/13/2016 Kidding History: 2018 -


Empress or as we call her "Emma" came to us on the coldest night of 2016. She has been such a blessing. She is full of spunk and has a determination that I just personally adore. We had struggled to get her dam pregnant for the past year and are so thankful to finally have this addition to our little herd. Her sire will be determined by DNA since we exposed her dam to all of our bucks. My expectation is that Dewey is the daddy but we will soon know for sure. We expect great things from this little one and she will have an updated photo this summer.

---
---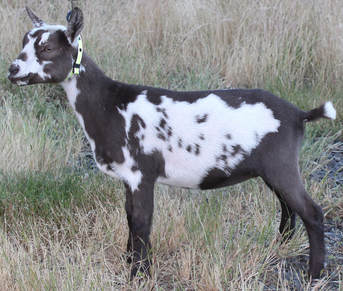 Franke Farm B Bvlgari


Sire: Castle Rock Bugatti *B X Dam: SG Pholia Farm UB Cartier 8*M

SS: Castle Rock Wild & Crazy Guy *B DS: Rosasharn SH Uni's Bryce *B
SD: GCH AGS CRF Castle Rock Tesla 2*M5*D DD: SG Pholia Farm RD Cocoa Chanel 7*M

DOB: 3/22/2017 Kidding History: 2018 -


"Gary" as we call her is the first progeny of our beloved doe, Cartier. She is extremely friendly like her dam. I really like her brisket and shoulder assembly as well. It is difficult to judge much more than that because of her young age at this point.

---
---
Franke Farm PN Coach


Sire: Diji Farm Pal's Pre-Nup *B X Dam: SG Pholia Farm RD Cocoa Chanel 7*M

SS: SGCH Buttin' Heads Palimony ++*B DS: SG Sugar Moon Rocky Dolby +*B
SD: Diji Farm CR Salina 1*M DD: SGCH Pholia Farm HB Angelica 6*M

DOB: 5/7/2017 Kidding History: 2018 -


Coach is an absolute sweetheart. She is the spitting image of her dam. Sometimes when they stand next to each other, I can image how Cocoa looked as a youngster. And I just love those wattles! She is tiny and has a lot of growing to do. But with her sire's Palimony genetics behind her, this doeling has great potential.

---